david whitfield (1926-80)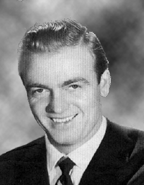 David was born on February 2nd, 1926. At that time the Whitfield family were living at No. 3 Albert's Terrace, East Street, which was off Clarence Street, in the Drypool area of Kingston-upon-Hull. Later, the Whitfield family would move on to houses in Harcourt Street and Beaumont Street - both streets in the same Drypool Bridge/Clarence Street area of the city that no longer exist. David attended St. Peter's School in Church Street, which was situated off Great Union Street. As a child, became a choir boy in St. Peter's Church and this is where he began his love affair with singing.

At 17 David joined the Royal Navy, which would be his life for the next seven years. He served in the Far East and also took part in the D-Day invasions as a seaman gunner on the battleship Ramillies. After being de-mobbed in 1950, he worked as a coalman's mate and then in the concrete business, loading cement on to lorries. Nevertheless, he continued to sing as often as he could, earning 30 shillings - £2 a time in local working men's clubs.

In May 1950, when David was living off Lorraine Street, he took part in Radio Luxembourg's Opportunity Knocks, and was a great success with the listeners. The show's host, Hughie Green, who later hosted the TV version of the same show, arranged a booking for David at the Criterion, in London. This led to the offer of a contract to sing at the Washington Hotel in London's West End; David was then earning the grand sum of £10 a week. It was here that David was talent-spotted by an executive of the Decca Recording Company, who later asked David to make a test recording. David must have impressed the people at Decca, because after this test he was offered his first recording contract. Success was soon to follow.

Within a short space of time, David's weekly earnings rose from £7 to around £450. And he was to become one of the most popular tenors of his day. He had great chart success during the 1950s, with more records in the British charts than any other British artist, and more than ten singles entering the top twenty.

His first single, Marta, sold over 20,000 copies within four weeks of its release. The next, I Believe, eventually sold in excess of 75,000 copies, but that still wasn't enough to get it into the Top Fifty. However, the third single, Bridge Of Sighs, which was released in October 1953, reached No.9 in the charts. David had arrived! His next single, Answer Me, released later the same month, reached the top of the chart. Answer Me was also notable for the fact that it was initially banned by the BBC because of its religious implications, something that would go completely unnoticed today. David's most successful hit was Cara Mia, released in June 1954, which stayed at the top of the British chart for a total of ten weeks, an achievement equalled by very few artists, even to this day. It was for Cara Mia that he became the first ever British male singer to be awarded a Golden Disc for record sales. David was also the first British recording star to break into the American top ten, and the first to achieve a million seller in the United States.

In England, David hosted his own TV shows. In the United States, he appeared eight times (more than any other British artist) on the Ed Sullivan Show, the show that would later be the launching pad for The Beatles' success in America. He performed in three Royal Command Performances at the London Palladium (1954, 1956, and 1957), featured in stage musicals (The Desert Song), and his recording of I'll Find You appeared on the sound track for the film Sea Wife, which starred Richard Burton and Joan Collins.

David continued to tour even after the hits had dried up, with tours all over the world. It was whilst touring in Australia, on January 15th 1980, at the age of only 53 years, that David died. He had suffered a cerebral haemorrhage and was taken to the intensive care unit of the Royal North Shore Hospital in Sydney. He fell into a coma shortly after being admitted and was dead within two hours. He was cremated at the Northern Suburbs Crematorium, Sydney, Australia. However, David's ashes were brought home in a casket to the city of his birth and carried on the frigate H.M.S. Sirius out into the North Sea, 5 miles south-east of Spurn Point. There, from beneath a Union Jack, they were given up to the sea.

David was no angel. Anecdotal evidence points to flaws in his character, which perhaps were more to do with the times he lived in, and his meteoric rise to stardom from such a humble background, than anything else. But there is no doubt that many were recipients of acts of his kindness and charity. With his voice he brought great pleasure to millions of people all over the world, and in his lifetime he reached heights no British artist had reached before.

Until the end of time, the answer to the question:

"Who was the first British male singer to be awarded a Gold Disc for record sales?"

will always be: "Hull's David Whitfield".
---
Link:
David Whitfield International Appreciation Society.
(A new browser window will open on top of this window)