lil bilocca(1929-88)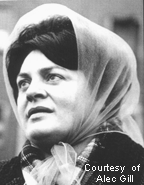 Lillian Bilocca was born in Wassand Street, Hessle Road, Hull. In the centre of the community whose men's safety she would fight for. Her father was a seaman; and both her husband, Charlie - a merchant seaman, and her son Ernie also made their living by going to sea.

Lil, who was one of three outspoken sisters, was never afraid to speak her mind and to stand up for what she thought was right. It was after the trawlers St. Romanus, Kingston Peridot, and Ross Cleveland went down in early 1968, resulting in the loss of 58 men, that Lil began her war against some of the most powerful names in the fishing industry. This battle, and the high profile she achieved was to turn Lil into a national figure, and a local folk hero.

The St. Romanus had sailed without a radio operator on board, and while this in itself was not illegal, as the Skipper of the ship was fully qualified to handle the communications, it was hardly ideal or conducive to high safety standards.

Lil who, at 17st., was to become known as Big Lil, took her battle to the dock side and to Downing Street, meeting with the then Prime Minister, Harold Wilson, at No. 10, and the battle for full-time radio operators to be a legal requirement was soon won.

Lil's dedication to improving the safety of the men - the husbands, fathers and sons - of the community, led to repercussions in her private life: she received threatening phone calls and lost her job at the fish processing plant where she worked. But Lil Bilocca, and the women of Hessle Road who were involved in the campaign, had seen the injustice and were prepared to do something about it. The fishing community of Hessle Road owe a great debt to those women. There is no doubt that many lives were saved because of their actions. Many mothers kept their sons; many wives kept their husbands; and children, their fathers.

In recognition of her achievements, a commemorative plaque was placed behind the Fishermen's Memorial, at the corner of Hessle Road and The Boulevard, on the wall of St. Barnaba's Court: "To Lillian Bilocca and the Women of Hessle Road".


If anyone reading this page has any photographs or more in depth biographical details, we would be very pleased to hear from you.